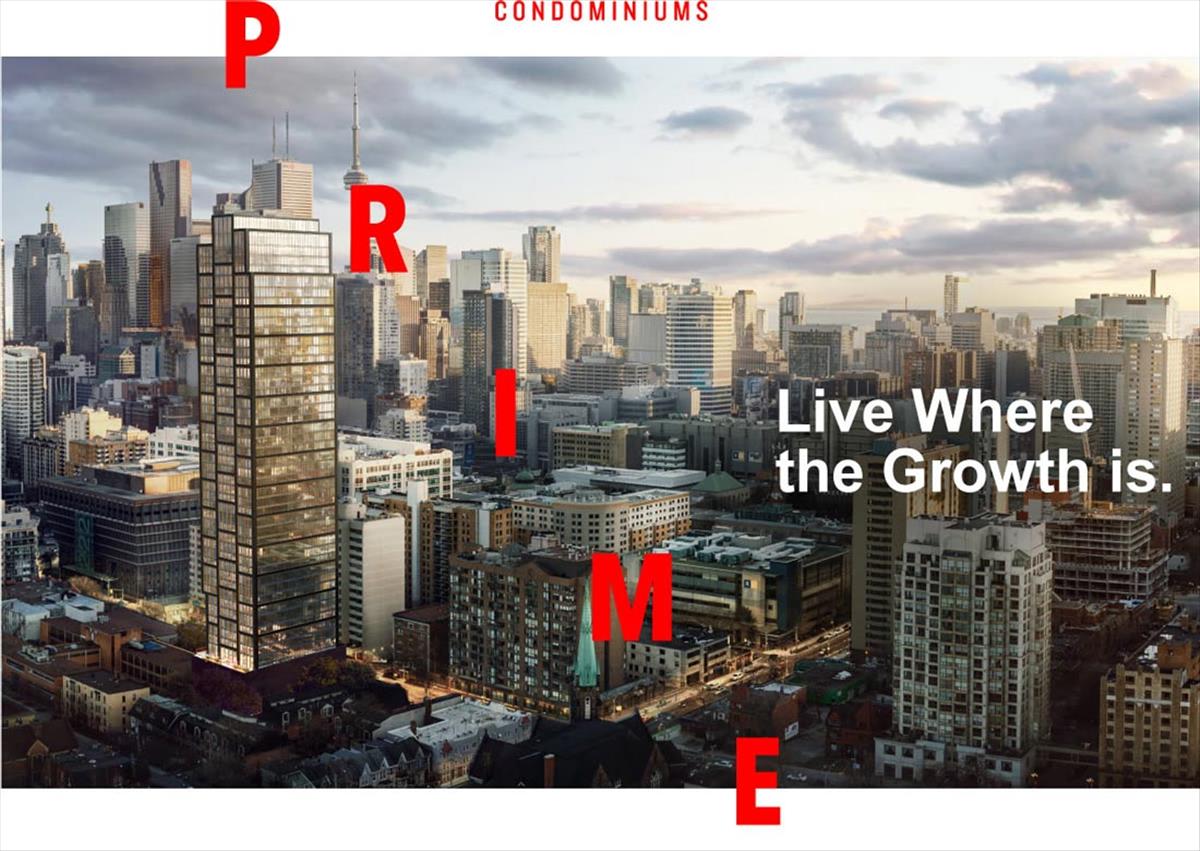 IT'S PRIME TIME
PRIME Condos is a new condo development by CentreCourt and Centrestone Urban Developments Inc. currently in pre-construction at 319 Jarvis Street, Toronto. Sales for available units start from the $300,000's. PRIME Condos has a total of 457 units with an anticipated occupancy date of 2021. With a Walk Score of 96, Transit Score and Bike Score of 100, CentreCourt is back, partnering with Centrestone Urban Developments Inc., on this new project called PRIME Condos. On the east side of Jarvis Street between Dundas and Gerrard, the project replaces a three-storey hotel with an IBI Group-designed condominium tower. Now proposed at a height of 45 storeys and containing 457 condominium units, it has evolved from a taller early 2017 rezoning application. The exterior expression of the latest version is new: the north and south facades have been broken up into three-level sections with horizontal bands of a dark-tinted material, either metal or precast concrete. A similar effect is present on the east and west elevations, but with a central tower volume offsetting the pattern, and vertical piers of metal panels with a warm hue adding accents. Juliette balconies are now offered on all suites in the redesign.

Prime Condos will offer a buzzing podium that will include retail space, 24-hour concierge service, a wrap-around outdoor terrace, and indoor/outdoor amenities. Be a part of downtown's 'places to grow' where redevelopment will bring more transit, more shops and more places to play, although this neighbourhood isn't lacking any of those perks! Residents will have access to a range of amenities, including a newly-added off-leash dog area as part of a 3rd-floor outdoor amenity space.
Lobby By VERSACE: As you walk through the front doors of PRIME, it makes quite the first impression. Beautifully furnished by Versace, the lobby greets you with immediate luxury. Gold mirrors, exquisite flooring, and a stunning light feature complement the Versace furniture and ensures PRIME's lobby rolls out a lavish welcome.
A Prime Opportunity
Ryerson University is just opposite of the upcoming Prime Condos.

 This University is in high-demand and has unrivalled growth in student admissions over Ontario's leading schools. 7,000 undergraduate students have been admitted to Ryerson University over the past five years. As a post-secondary school with the highest admission rate during that time frame, Ryerson has the least housing for students compared to the University of Toronto and York University.
From the lobby of PRIME, 

almost 50 Ryerson University buildings can be accessed in less than 8 minutes.

Student housing is under-serviced in the Ryerson University area as the housing market has not kept pace with the growth in student population. If 7,000 students continue to enrol in Ryerson University over the next 5 years, the area will need 12 buildings the size of Prime Condos to house them all!

Growing University, and Growing Demand:

 Because PRIME is situated directly across the street from Ryerson University, PRIME will be one of the first locations to benefit as Ryerson's Yonge Street Campus continues to increase its student enrolment.
Student housing has not kept pace with the growth in the student population, and Ryerson now provides less housing to its students than any other university in Ontario.

Approximately 97% of all new students at Ryerson will need to find accommodation nearby

.

Investing at Prime Condos means the chance of receiving a positive return is promising

. Purchasing a unit in a community that is constantly growing adds a sense of security to both investors and home-buyers, not to mention- Prime Condos is set to occupy an area just steps from BMO's proposed state-of-the-art 'urban campus'. This employment hub is set to employ 3,500+ people.

Among other factors, demand for new housing in the neighbourhoods

 east of the core is being fuelled by the growing student population of Ryerson University, with investor-owned condominium units helping to offset a shortage in purpose-built rental towers in the area. The urgency in bringing new units to market as Ryerson's student population expands and rental rates in area condo towers climb. "CentreCourt is highly motivated to bring new supply to this area of the downtown core as quickly as possible, to help alleviate the housing shortages driven by Ryerson and the exploding demand to rent in this growing area..