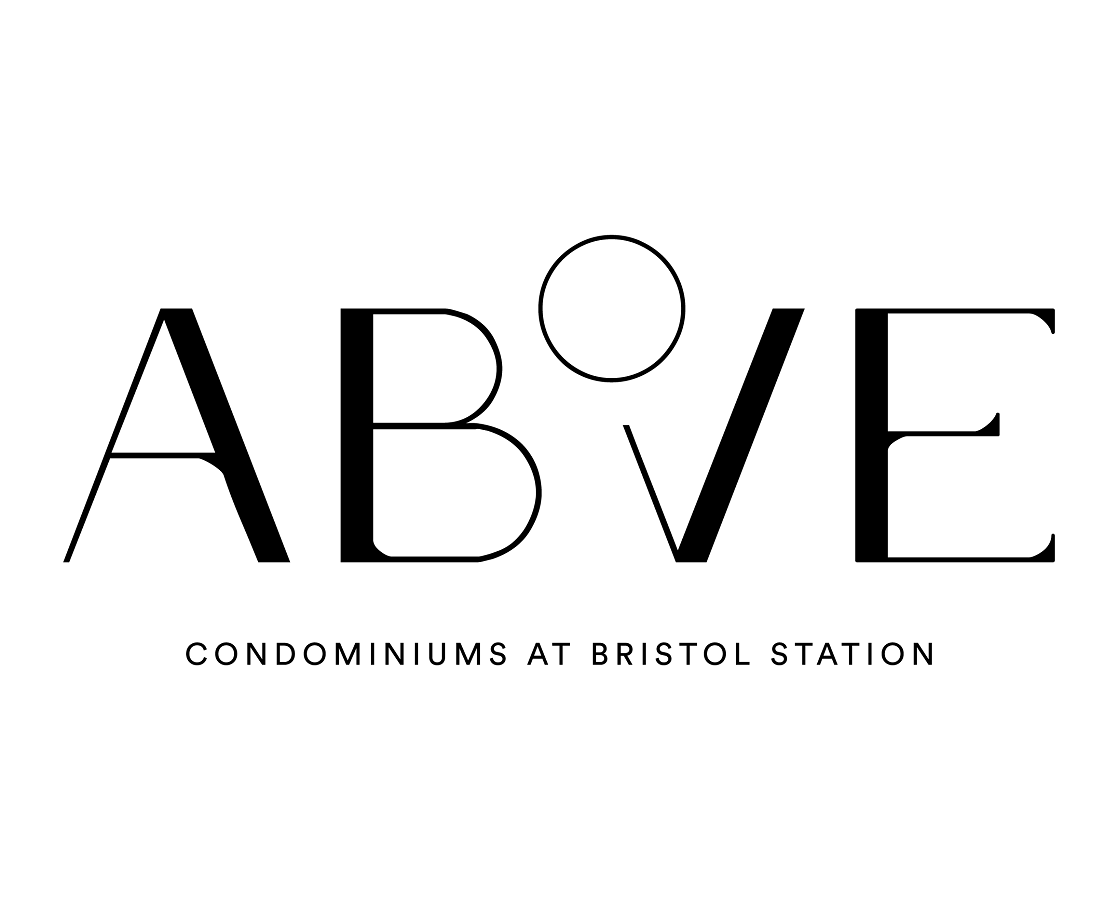 RioCan Living & Marlin Spring Present ABOVE Condominiums at Bristol Station – Up Where We Belong
ABOVE Condos is a new condo development by Marlin Spring and RioCan Living currently in preconstruction at 30 Bristol Road East, Mississauga. The main intersection is Bristol Road East and Hurontario Street.
ABOVE Condominiums at Bristol Station will consist of two towers of 17 & 24 storeys with a total of 579 mixed condo units in a range of layouts and designs from studio to three-bedroom units. The building will feature over 40,000 square feet of outdoor and indoor amenities.
North of Mississauga's downtown is the ideal community experience known as Above Condos. Find out more about this magnificent condominium complex on Hurontario, which is near to the Bristol LRT Station and the best urban amenities the city has to offer.
ABOVE Condos is located just north of Mississauga's downtown core. You have a wide range of amenities and attractions close by with this location. This project is close to Highway 403, and the Bristol LRT Station will be built nearby in the fall of 2024. For GO access, it takes 12 minutes to go to the Cooksville GO Station. Within a short drive of this project are Square One Shopping Centre, Living Arts Centre, and Mississauga Valley Community Centre. The Mississauga Campus of the University of Toronto is a 15-minute trip for both staff and students. It's not far to go to the Hazel McCallion Campus of Sheridan College.
With connections to both current and future transit routes, transportation is just another great incentive to invest in this new condo development. In Mississauga, work is already under way on the eagerly awaited Hurontario Light Rail Transit project, which should be finished in 2024. Residents have access to 19 new LRT stops, 18 KM of rapid transit rail lines, including stops for Toronto's Union Station, Brampton, and other destinations. The future Hurontario LRT Eglinton stop will be 3 minutes' driving from the condominiums.
Register now to get first priority access to floorplans and pricelist.
Highlights at Above Condo
The Above Condos are located in Mississauga's downtown. The primary factor in Mississauga's expansion has been the Toronto Pearson International Airport, which is the biggest and busiest airport in Canada. Many businesses have decided to locate their corporate headquarters in Mississauga due to its close proximity to the airport and the City of Toronto.
®    Easy access to Highway 403 & 401
®    Located in Downtown Mississauga
®    Mississauga is a 6 largest city in Canada
®    Mississauga Celebration Square one major street away
®    Several nearby bank such as RBC, ICICI
®    16 min drive to Lakeshore Port Credit
®    Easy access to anywhere in the city
®    By 2041, 85000 Business in the city, 552,000 jobs will be created
®    Sheridan College: 21,000 full-time and 17,000 continuing and part-time students
®    University of Toronto Mississauga Campus: 13,500 undergraduate students, as well as 575 graduate students
®    Close to shops, restaurant and schools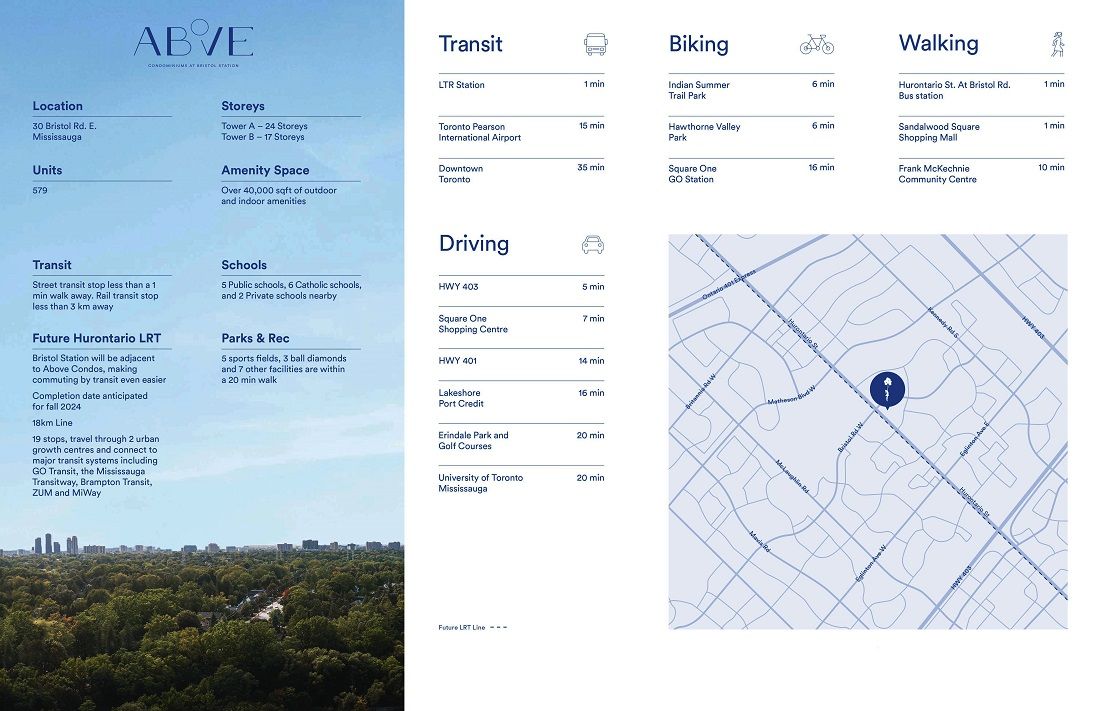 ABOVE Condo Project Details:
Developer: Marlin Spring and RioCan Living
Address: 30 Bristol Rd. E., Mississauga, ON, L4Z 3K8
Architect(S): Turner Fleischer Architects
Storeys: Tower A – 24
                Tower B – 17
Units: 578
Building Status: Pre-Construction
Above Condo Developers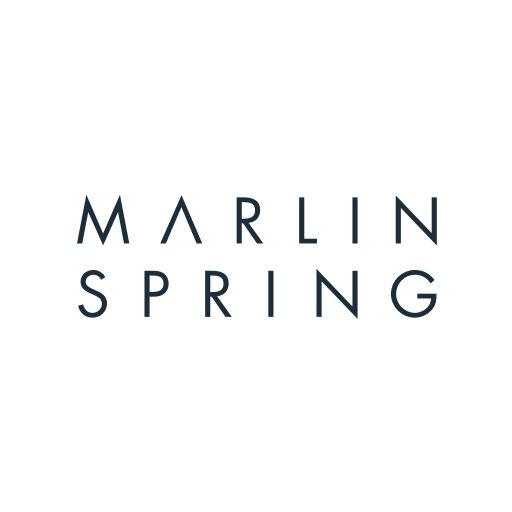 Marlin Spring has a number of projects in the GTA and provides a thoughtful, creative approach to development. This firm creates real estate with a strong eye for detail that enhances the streetscapes of the neighbourhood and creates warm places to call home.                                                                                                                                                                                                                                                                                                                                                                                                                   

Since 1993, RioCan Living has held the title of largest Real Estate Investment Trust in Canada. This developer has a solid reputation in the country's commercial development sector. Additionally, they are best recognized for its huge portfolio of retail buildings spread across Ontario and Alberta. Since then, they have applied their knowledge to the construction of condominiums.
Register below to get first priority platinum VIP access to floorplans, pricelist and incentives.