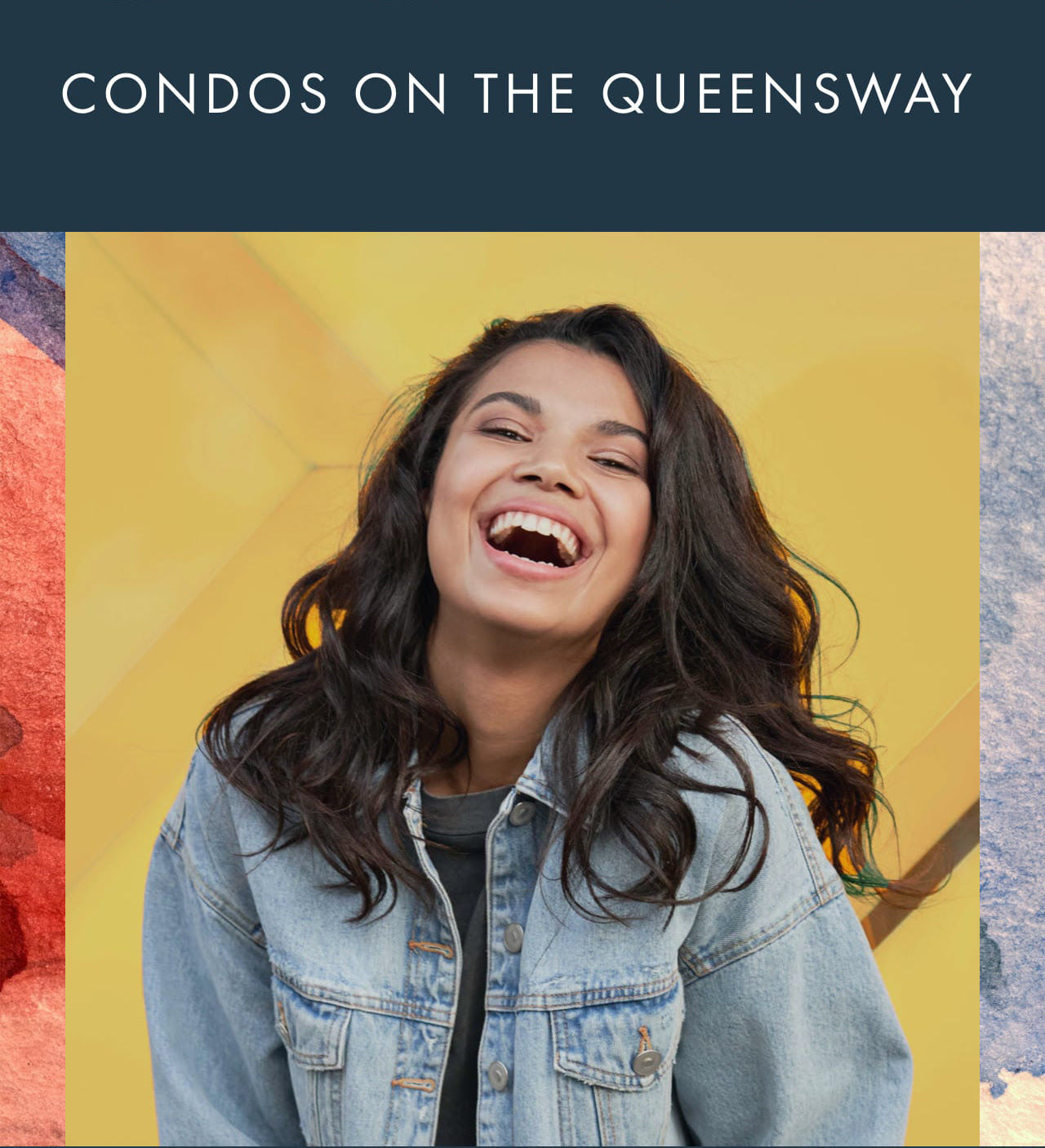 Welcome to Joya Condos, the latest pre-construction condo development brought to you by the collaboration of Marlin Spring and Greybrook Present. Nestled at 1045 The Queensway in the vibrant neighborhood of Etobicoke, Toronto's west end, Joya Condos offers the perfect blend of modern urban living and a multitude of pleasures.
Starting From The $400's
Embrace a lifestyle that transcends ordinary living as you step into our stunning 12-storey residence. Designed with your utmost comfort and enjoyment in mind, Joya Condos boasts exceptional amenities that cater to your every need.
Indulge in the joy of urban living as you explore the myriad of inspired amenities surrounding this Queensway condominium. Immerse yourself in a world of convenience and style, with thoughtful details meticulously integrated throughout the building. Each day will be imbued with vibrancy, making every moment a joyful experience.
Benefit from seamless commutes to various destinations, easy access to nature, and a plethora of top-notch shopping and dining establishments that the GTA has to offer. Joya Condos is your haven of happiness, your ultimate happy place in the heart of Toronto's vibrant west end.
Join us at Joya Condos and discover the true essence of modern urban living, where luxury, convenience, and excitement harmoniously converge. Experience the joy of a fulfilled lifestyle in one of the most sought-after areas in Toronto. Welcome to Joya, where your happiness finds its home.
Project Summary:
Project Name: Joya Condos
Builder Name: Marlin Spring & Greybrook
Address: 1045 The Queensway, Etobicoke, ON, M8Z 1R1
No. Of Storeys: 12
No. Of Suites: 280
Building Status: Pre-Construction
Joya Condos Highlights:
· Very close access to the Gardiner Expressway and HWY 427
· 5-minute drive to Islington Subway Station
· 9-minute drive to Kipling GO Station
· 8-minute drive to Mimico GO Station
· 6-minute drive to CF Sherway Gardens
· 8-minute drive to Cloverdale Mall
· Close to shops, restaurants, and schools
· Many nearby public transportation options
· Nearby parks: Queensway Park, Queensland Park, and Ourland Park.
Discover the perfect urban living at Joya Condos:
Easy Commuting: Joya Condos Steps from Kipling Transit Hub
Enjoy Effortless Commuting with Joya Condos, Just Steps from TTC and the Kipling Transit Hub! Connect seamlessly to TTC subway lines, GO Transit, MiWay, and buses for smooth transportation options.
Quick Access to Gardiner Expressway: Joya Condos' Convenient Location
Welcome to Joya Condos, where easy city access is at your fingertips. With its strategic location near the Gardiner Expressway, commuting to downtown Toronto and other parts of the city has never been more effortless. Say farewell to long commutes and embrace the convenience of swift travel, allowing you to make the most of your valuable time.
Discover the joy of stress-free journeys and seamless connectivity at Joya Condos. Embrace a lifestyle where getting around the city is a breeze, leaving you with more time to indulge in the things you love. Experience the true essence of modern urban living at Joya Condos, where convenience and comfort intersect harmoniously.
Conveniently Located: Joya Condos Near Schools and Community Centre
Welcome to Joya Condos, the perfect choice for families seeking an exceptional living experience. Our prime location situates us near excellent educational institutions, ensuring a nurturing environment for your children's growth and development.
In addition, a public community center is just moments away, providing a plethora of recreational activities and resources for residents of all ages. Whether it's engaging in fitness programs, social gatherings, or pursuing personal interests, you'll find everything you need right at your doorstep.
Experience a fulfilling and family-friendly lifestyle at Joya Condos, where convenience, education, and recreation come together harmoniously.
Easy Access to Downtown Toronto: Joya Condos a Short Distance Away
Discover Urban Living at its Finest: Joya Condos, A Stone's Throw from Downtown Toronto's Vibrant Energy. Immerse Yourself in Renowned Attractions, Culture, and Entertainment, All Within Easy Reach.
Conveniently Close: Joya Condos Near Park and Shopping Delights
Embrace Nature's Beauty: Joya Condos, Surrounded by Scenic Parks - Queensland Park, Ourland Park, and Queensway Park. Relish Outdoor Activities and Serene Green Spaces Steps from Your Home. Indulge in Retail Therapy with Convenient Shopping Options Nearby.
Prime Location: Joya Condos Close to Islington-City Centre
Joya Condos, perfectly situated in the sought-after Islington-City Centre West neighborhood. Experience the convenience of a desirable location, surrounded by an array of amenities and services. Indulge in easy access to dining options, entertainment venues, shopping centers, and more, all within close reach.
With an impressive Walk Score of 85 out of 100 and a Transit Score of 60 out of 100, Joya Condos ensures residents have seamless access to a variety of amenities and transportation options. Embrace the exceptional urban living experience that awaits you
Register below to get first access to floorplans and pricelist.